The Vera Project is having a spring fund raiser! We need to reach $33,000 by June 30
th
! This money will be doubled by a Murdock Matching Grant. The money will help us pay off our new venue and continue our brilliant programming!
Spread the word or Donate here: http://firstgiving.com/theveraproject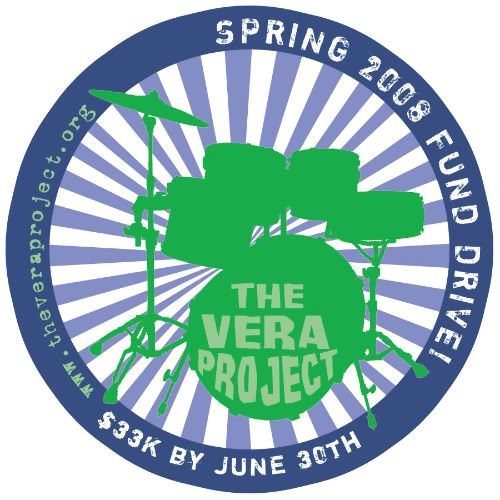 As The Vera Project is settling into our beautiful new space which has hosted tons of great bands and classes we find ourselves in a certain money crunch. We need to raise $33,000 by the end of June to finish paying for our new space and fuel more awesome music and arts programming. We need to raise this money by the end of June because each dollar we raise up to this goal will be doubled by a generous matching grant from the Murdock Charitable trust.
Every donation, no matter how large or small, will make a difference in the lives of thousands of young people and artists. Small amounts can make a huge difference! Here on Myspace alone, we have over 10,000 friends – if everyone donates just three bucks we'll almost reach our goal!
It's a great time to donate to Vera! Vera is continuing to have excellent programming on almost every day. We've seen more faces in the last year than any year of Vera's existence. For those who are supporters of all-ages music, youth empowerment and equality this is a small price to pay to support Seattle's premier all-ages arts and music venue!
Here's how YOU can help:
Donate! You can donate online here: http://firstgiving.com/theveraproject or you can drop a check in the mail.
Tell your friends, family, co-workers and anyone else you can think of. Send a Myspace bulletin out! Make a Facebook group, add a widget to your page! and check out our fundraising page: http://firstgiving.com/theveraproject for more ways to let folks know we need their support.
Employer donation matching? Hook it up!
There are tons of other ways to help! Get in touch to find out how. Thinking of doing a benefit show? Wondering how to put together a secret cafe? Just e-mail fundraising@theveraproject.org or call Vera at (206) 956-8372 to get more info.
Wanna donate by Check?
Vera's mailing address is:
305 Harrison Street,
Seattle, WA 98109
Make sure you write "Vera 2008 Spring Fund Drive" on the check and include a current mailing address so we can send you a receipt.